How Would You Like $500 or $250?
That's right.  We're giving away the big bucks at the April 18, 2020 Children's Business Fair.  Kids can do a lot with $500 or $250, right?  In the past, we've given $50 to 1 business in each of four age group categories.  For our Spring 2020 fair, we're ramping up the payoff for your hard work and commitment to your business and the fair.
The  Southeastern Credit Union Foundation will award a $500 prize and the MBCBF Youth Development and Training Program will award a $250 prize.
We're still ironing out the details but you'll find the gist of it MBCBF Application.  Earn points right away by completing an application to the fair and we'll award you points, once you've been accepted.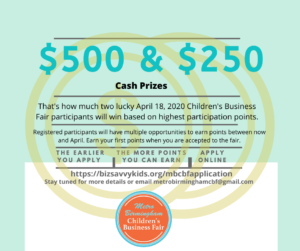 The Metro Birmingham Children's Business Fair is a registered 501(c)3 organization co-founded by Sabrina Mays and Charita H. Cadenhead.

Our mission is to introduce kids to the concept of entrepreneurship early in life.By doing so, they begin to see expanded career opportunities that are in addition to traditional career paths.

The fair is currently held twice a year in the spring (April) and fall (October) of each year.We strive to maintain our leadership role as the ultimate children's event for young entrepreneurs across the entire Metropolitan Birmingham, AL area and beyond and we won't stop until we are a household name.
Latest posts by Biz Savvy Kids (see all)