It's Great Exposure
Exposure.  That's why your kid should register/apply to participate in the October 6, 2018 Metro Birmingham Children's Business Fair.  We held our first Children's Business Fair on April 21, 2018, at the Fairfield Civic Center in Fairfield, Alabama.  We spent months planning and right up to the day of the fair, we had no idea what turnout would look like with regard to consumers showing up to support these 21 youth businesses.
Once the doors opened at 10 am, the traffic never ceased or slowed down.  There was a steady stream of shoppers right up to the time the fair was over at 1:00.  One of the ways that we kept up with the amount of traffic was colored armbands that we handed out as patrons entered the building.  The armbands were some that were left over from another event.  There were about 400 to 500 armbands left over from the other event, but we just grabbed 200 and said that however many were left after the fair, then we'd know how many shoppers we had. Well about an hour to an hour and a half into the fair, all 200 of the wristbands were gone, but the foot traffic kept coming.
We contacted Jamiese Price OF WBRC 6 and she interviewed one of our vendors, Abigail Silmon and MBCBF co-founder Sabrina Mays, and that interview provided the fair with some absolutely great exposure on top of the marketing that we had already done.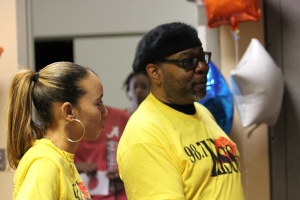 When KISS FM's on-air personality Darryl Johnson and Summit Media's Marketing & Promotions Director Timeca Nevels stopped by, we were totally caught off guard. They had heard about the fair, interviewed us on the spot and as a result, shoppers were coming in saying that they had just heard about the fair on KISS FM.
Our next fair is scheduled for Saturday, October 6, 2018.  We had not identified a venture yet and much of that will depend upon how many registered vendors as we approach the fair date. This time around, without question, we will have double the number of vendors but our cut-off is 50 vendors.  So register now for the big event and give your kid the exposure that they need and deserve.  Must register here to be considered.